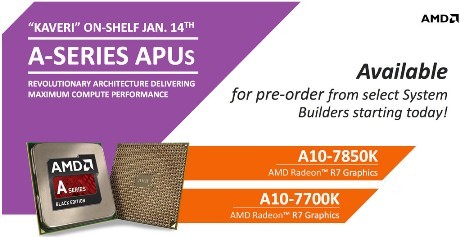 AMD announced its latest APU processors at CES 2014. Carrying the code Kaveri, The APU's equipped with a myriad of new features that make it arguably today's most sophisticated APU.
Kaveri has been supporting Heterogeneous Systems Architecture(HSA) technology that allows the CPU and GPU to be able to share the workload. Due to this HSA technology, Both the CPU and GPU will be able to help each workload receives in parallel.
The performance of AMD Kaveri is increased significantly when compared to previous generation of AMD APU.

Proceed to its graphical sector, The Radeon chip sets in it has relied on Graphics Core Next (GCN) technology. GCN's technology previously found only in the mid to high-end version of AMD's graphics cards
Due to GCN technology, Combined with the AMD Mantle API(Application Programming Interface), Graphics chip performance is claimed to be far more optimal. The performance is high when we're running game that has also been optimized with AMD Mantle.
With this combination AMD Kaveri is capable of thrusting performance up to 856 GFLOPS. Another great feature, AMD also includes True Audio feature that is claimed to make the audio sound in the game feel more alive.
Kaveri comes in two variants via the A10-7700K and A10-7850K. A10-7850K as the highest equipped with 3.7 GHz clock speeds, Up to 4 GHz (in Turbo mode). The power consumption is fairly reasonable it use 95 watts